CONCEPT OF THE FOOD DEPARTMENT
Spread out over a surface of 1.100 m² a new destination has emerged in one of Amsterdam's finest buildings. The Food Department is located on the second floor of the Magna Plaza. A downtown food hall bringing both locals and travelers together to enjoy culinary highlights in a casual ambiance with amazing views.
Within The Food Department we are proud to host concepts that offer the best menu items our vibrant city has to offer. For the locals we want our floor to feel like a piece of home. For the traveler we want to create an experience resembling a miniature version of Amsterdam. To achieve this the concepts within The Food Department have been selected and balanced based on three important criteria:
GLORY OF AMSTERDAM
Amsterdam has been blessed with a generally open-minded mentality of friendliness, eagerness and maybe even a slightly cocky edge. This has resulted in entrepreneurs creating successful hospitality concepts that people love to go to, but also love to come back for. We feel lucky to have joined forces with the best among them.
HAUTE CASUAL
Quality is key. Within The Food Department it is our aim that exquisite food is open for all to experience. For this reason we have made sure there is passion in and a story behind each kitchen. Many have esteemed chefs working their finest behind the stoves.
NEW AND INNOVATIVE
On top of that we have made way for fresh ideas in food to excite us before we have even been able to try a bite. It is these concepts that keep us 'hungry' for innovation. Best of all they keep us all intrigued.
Combine the above mentioned with three amazing bars and spectacular views and you've got yourself an unforgettable experience.
Last but not least, it is all about fun and food in The Food Department. With the bustling sounds of life we hope to give new meaning to a building that has brought people together for years.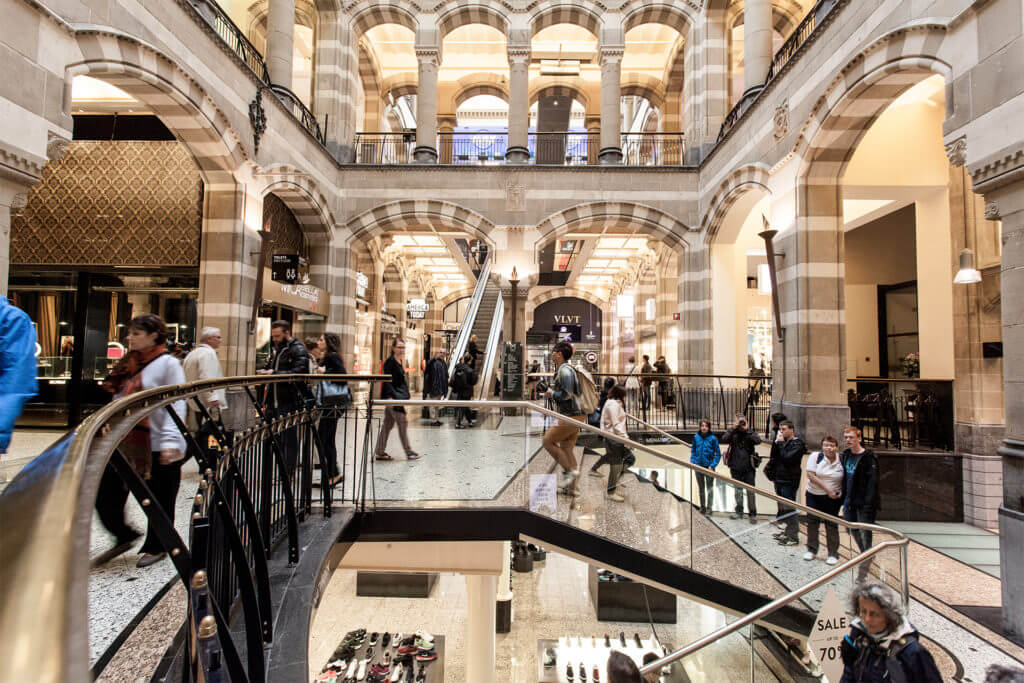 Magna Plaza
Architect Cornelis Hendrik Peters built Magna Plaza in a neo-Gothic style, a mixture of Gothic and romantic elements of which the Parliament buildings in London are an example. In 1992 this beautiful building was added to the list of ten most valuable monuments of the city of Amsterdam. Four renowned architects were invited to submit a renovation plan, the first indoor shopping and lifestyle centre in the heart of the city.
OPENING HOURS
Monday           11am – 10pm
Tuesday           11am – 10pm
Wednesday     11am – 10pm
Thursday          11am – 10pm
Friday               11am – 10pm
Saturday          11am – 10pm
Sunday             11am – 10pm