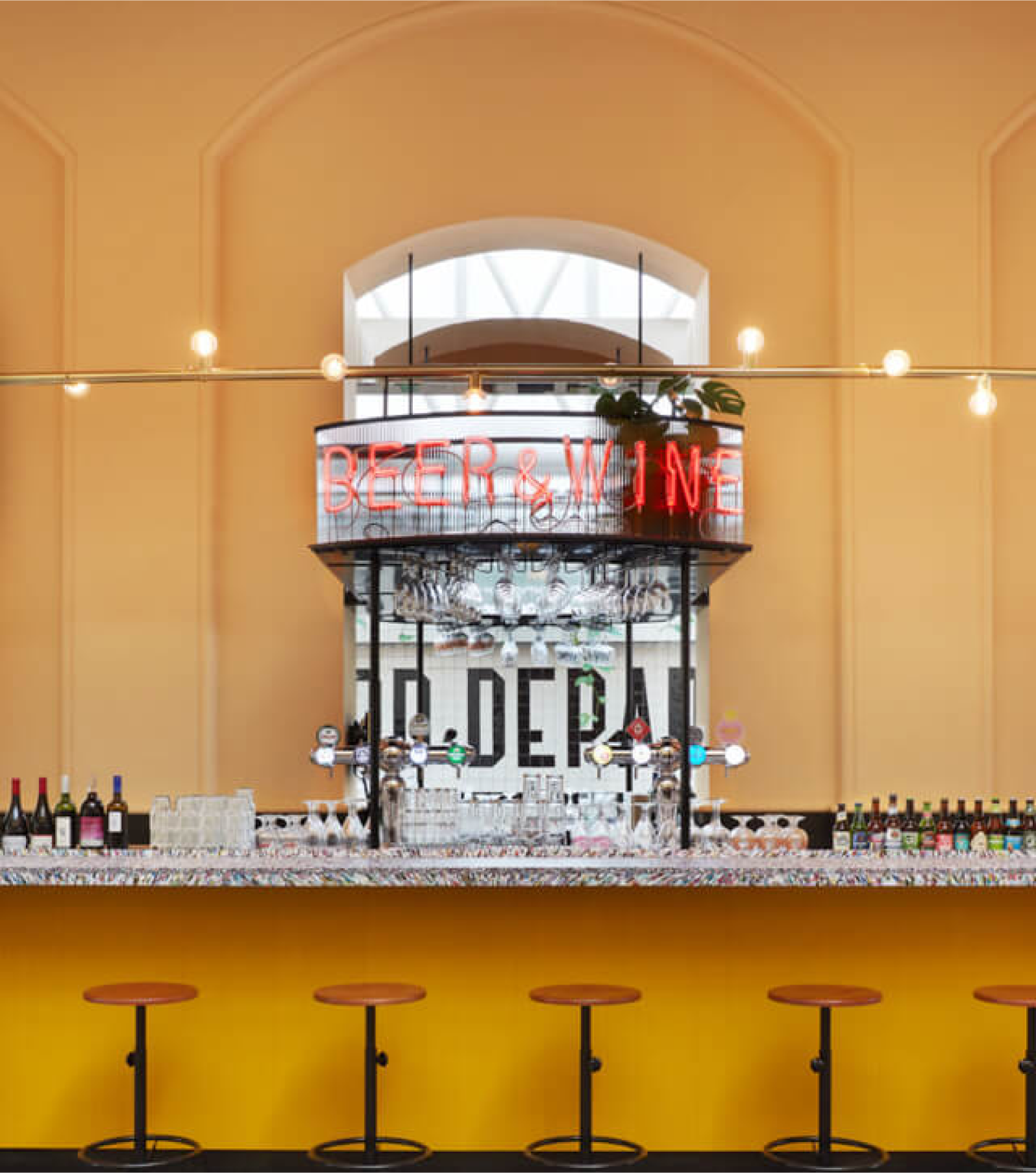 beer and wine bar
DRINKS
Do you ever just feel like a little gallivanting around with a glass of luscious wine, chatting away with friends? A lot of us do. But what if your friend happens to be more in the mood for picking a treat from a carefully selected array of beers? No worries, we have got you covered.
At our beer and wine bar we look for the quirky in both beverages; their stories, their flavours, it all matters. This results in our bright yellow bar having a fun feel to it all year round.
'BIERGARTEN'
If you are a beer lover, we would happily serve you anything from light fruity ales all the way up to triples and blonds. Especially, because some of the brewers are local and we are proud to offer them a stage within our food hall. So pick a beer and grab a seat at one of the rustic tables in our 'Biergarten', and enjoy the green and friendly area. However, if you have a weakness for the reds and whites from the vineyards, or even the pinks or the bubbles, we can definitely please those wine palettes as well. With wine from across various borders, we have focused on what is delicious, what gives a great mouthfeel and most of all, what wines will light up our guests' faces.
SMILE
The best thing about the selection at this eccentric Beer and Wine bar is that without even having a sip, most bottles of both beer and wines will immediately make you smile. Each one has its own design with its own effect, we are curious to see what you will pick! That is why we have not been shy in displaying our treasures to you. Time to crack a few open and judge if these books match their covers.
CONTACT
 
ADDRESS
The Food Department
Downtown Food Hall
2nd Floor Magna Plaza
Nieuwezijds Voorburgwal 182
1012 SJ Amsterdam
OPENING HOURS
Monday        CLOSED
Tuesday        CLOSED
Wednesday   12:00-21:00
Thursday       12:00-21:00
Friday            12:00-21:00
Saturday       12:00-21:00
Sunday          12:00-21:00
*Monday to Thursday we have limited availability, please check the open stands on the spot