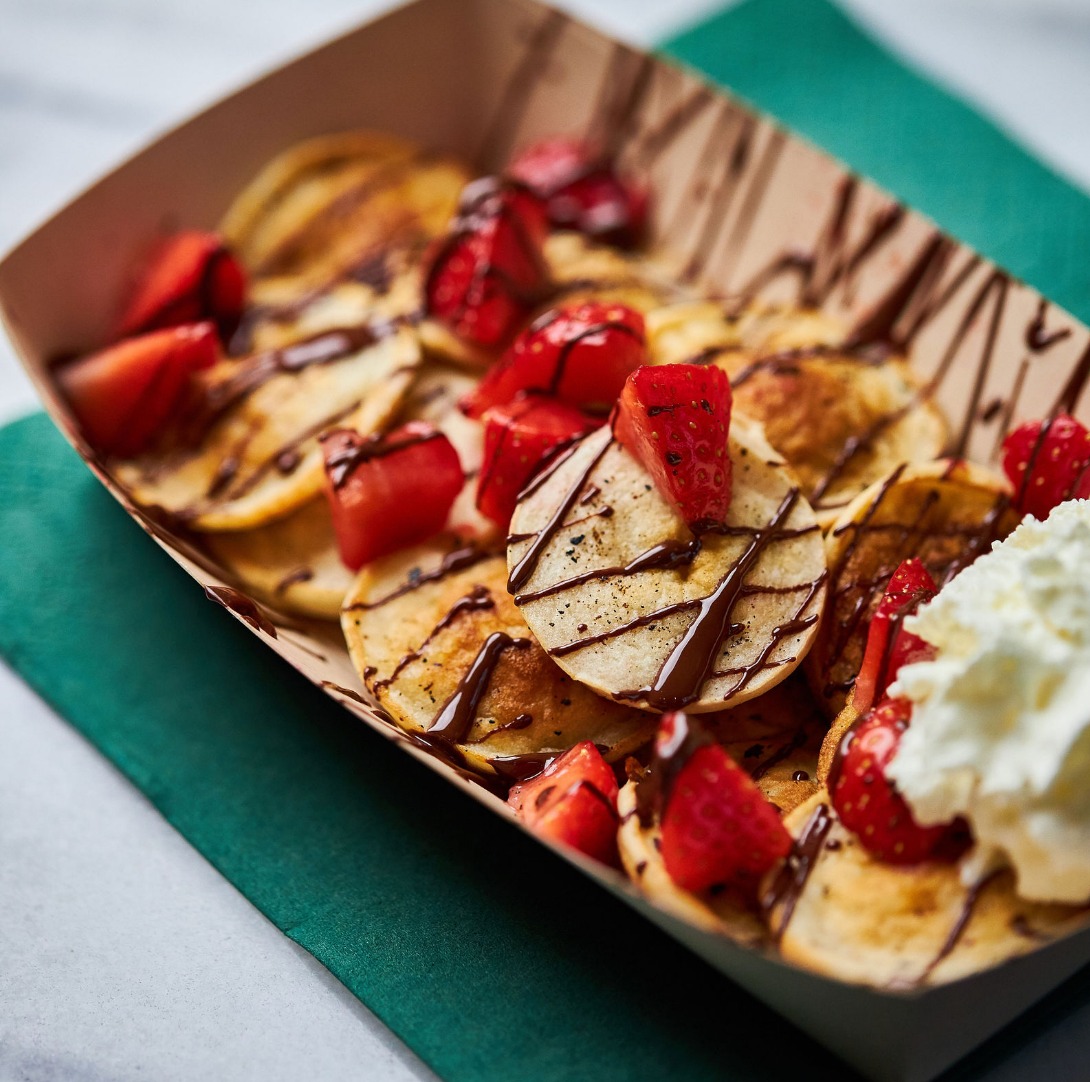 THE POFFERTJES OFFICE
Pastry
The Poffertjes Office serves the tastiest Dutch poffertjes and stroopwafels of all of Amsterdam and the greater surrounding area.
The Poffertjes Office serves traditional Dutch mini pancakes, known as poffertjes. They are small fluffy pancakes that can be enjoyed with a traditional serving of butter and powdered sugar or personalized to your own taste with an array of fresh, savory or sweet toppings. Whether you enjoy our delicious red velvet poffertjes served with white chocolate and chunks of brownies or prefer a serving of savory poffertjes with molten Old Amsterdam cheese, rocket and truffle mayonnaise, we can always fulfil your cravings.
Besides scrumptious Dutch poffertjes, The Poffertjes Office also serves the world-renowned Dutch stroopwafels. Stroopwafels are made by pressing sweet dough in a waffle press until perfectly thin and crisp. Delicious warm syrup is spread between two layers of the crunchy waffle to form the perfect waffle. Eat it fresh off the waffle iron, dip it in a nice refreshing glass of milk or decorate it with chocolate dips and sweet toppings, for example fresh strawberries, m&m's, caramel cubes and chunks of Oreo cookies.
Locals and tourists from all over the world agree, The Poffertjes Office it the place to go for these delicious, timeless and traditional Dutch foods. Stop by, get in touch with your inner Dutch, and let the true flavors of Amsterdam surprise you!
 
ADDRESS
The Food Department
Downtown Food Hall
2nd Floor Magna Plaza
Nieuwezijds Voorburgwal 182
1012 SJ Amsterdam
OPENING HOURS
Thursday       12:00-20:00
Friday            12:00-21:00
Saturday       12:00-21:00
Sunday          12:00-21:00
*Monday to Wednesday we have limited availability, please check the open stands on the spot