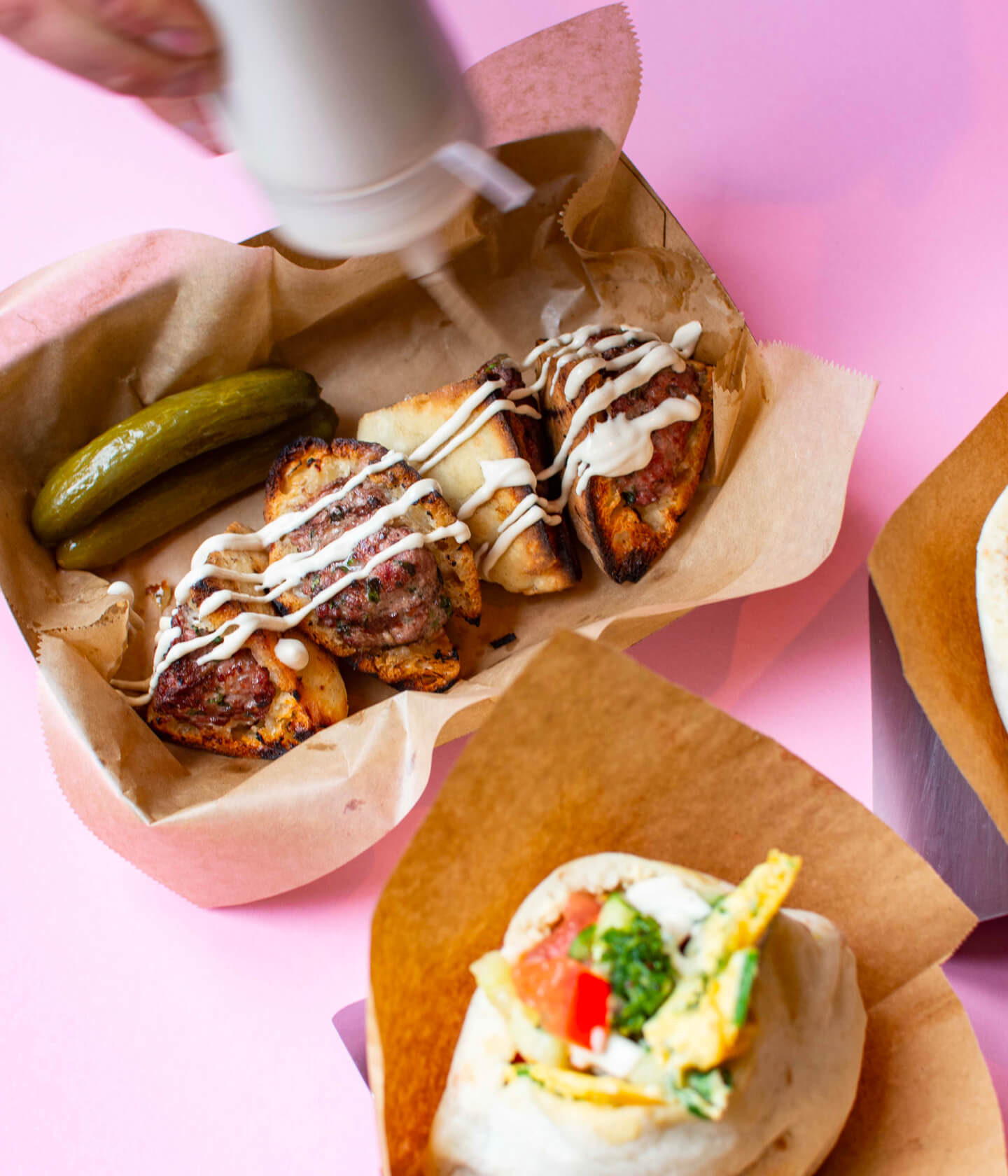 BEPITA
Mediterranean Streetfood
You are not going to be able to miss it. The biggest kiosk within our midst looks over the atrium of our iconic building. The Food Department is glad to shake hands with a new and refreshing concept, that brings colour into our food hall and into all guests' lives. Imagine yourself walking around on a vibrant market where you can try different flavours of fresh vegetables, fish and local spices from different cities that have been cherished, taken to heart, and turned into wonderful pitas. The colours and ingredients bringing this concept to life are a feast to the eye, being on display for all to see. It is a true pita experience, that the guests can enjoy with all their senses.
OVERFLOWING WITH FLAVOUR
This culinary experience is created for you by the new and exciting concept Bepita. Take their pita bread for example, the ingredients that are embedded make it delightfully light and airy, an elegant texture that is mostly known to Neapolitan pizza dough.. This pita bread is then wrapped around warm and summery flavours, transcending you to the promised land. One can think of herbed lamb kebab.. grilled mushrooms.. spicy fish.. or perfectly juicy ribeye steak that is covered in tahini and 'kock from zhug' – a flavoursome green hot sauce. All in all, bursting with the best that food has to offer.
So come to the top end of The Food Department and find this kiosk filled with colour and produce. Grab yourself a pita, overflowing with flavour and ingredients and handled with the utmost care. The chefs will seduce you and show you their passion preparing food that you want to keep eating, it's that good.
ADDRESS
The Food Department
Downtown Food Hall
2nd Floor Magna Plaza
Nieuwezijds Voorburgwal 182
1012 SJ Amsterdam
OPENING HOURS
Mon-Thu   12:00-20:00
Fri-Sun      12:00-21:00
Due to COVID-19 measures, we can only offer delivery. More info here.