EERSTE ACHT  STANDHOUDERS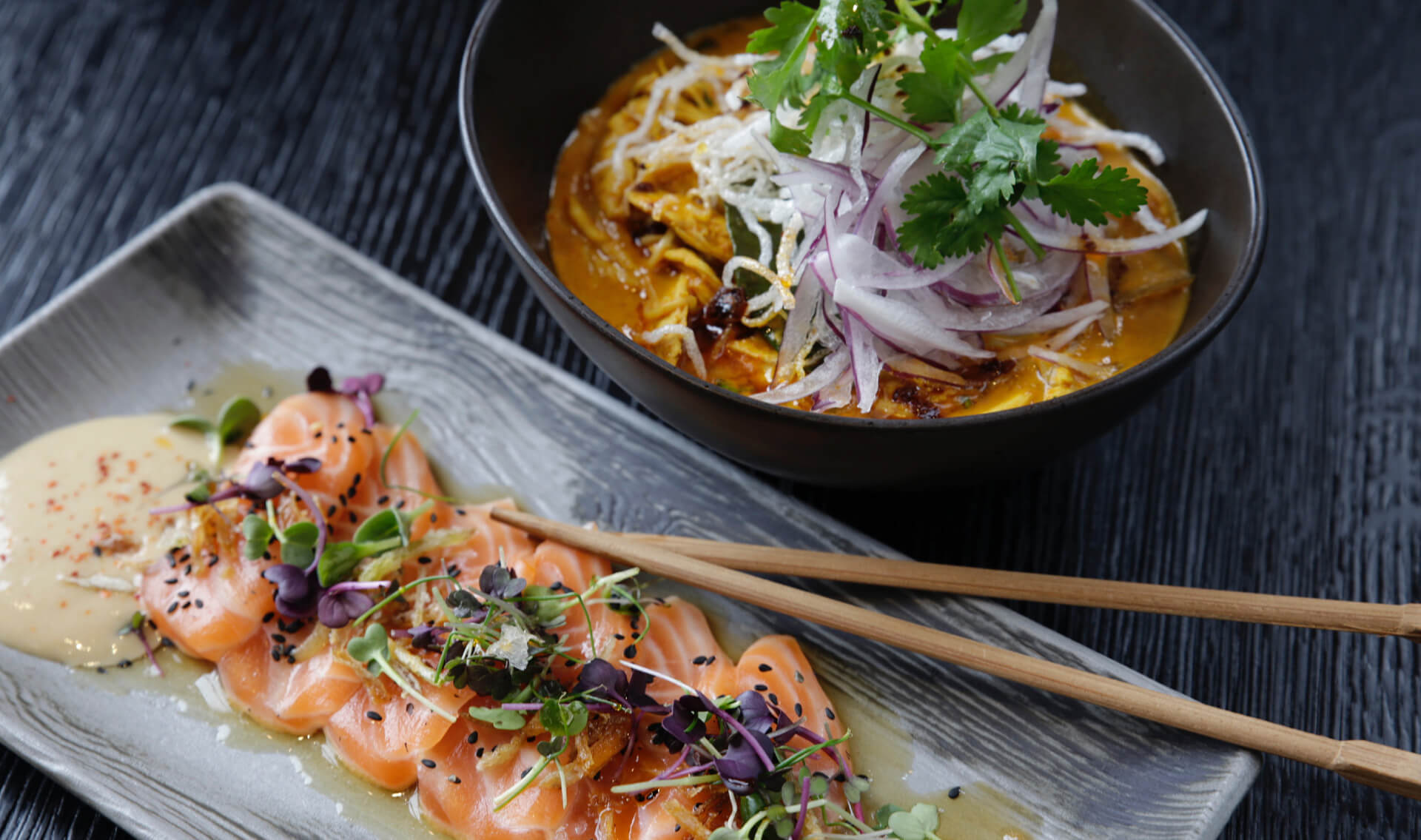 (English version below)
CONCEPTEN
The Food Department stelt zijn menu samen uit uiteenlopende concepten: gerenommeerde namen, Amsterdamse glorie en vernieuwende keukens die hun eerste culinaire strepen verdienen. Zo trekken onder andere verse concepten als LIMALIMA, LIOS en China Supreme in het voormalige postkantoor. Een van de ras-Amsterdammers vindt The Food Department in Van 't Spit – het kiprestaurant waar hoofdstedelingen letterlijk de vingers bij aflikken. Edwin de Koeijer, co-founder Van 't Spit: 'Al liggen de roots van onze oprichters door heel Nederland, Amsterdam is na al die jaren onze stad geworden. Met deze stand brengen we Van 't Spit midden de hoofdstad.'
Hospitality-imperium The Entourage Group, bekend van onder andere MOMO en IZAKAYA, opent maar liefst drie stands in The Food Department. 'We hebben het Magna Plaza altijd bewonderd vanuit het naastgelegen W Hotel. Met THE BUTCHER, Toni Loco en Bepita hopen we nieuwe energie te brengen naar een prachtige en historische locatie.' Als achtste concept vindt ook lokale favoriet Sushito zijn weg naar het Magna Plaza.
#1 TONI LOCO
'Size does matter, no one wants a small pizza' – Toni serveert traditionele pizza's met een moderne twist en een scala aan nieuwe smaken met zijn unieke knapperige sesamkorst. Uiteraard mogen de classics bij Toni ook niet ontbreken: Bianca, Rosa en Olivo. De handgemaakte bodems zijn tot 50+ centimeter groot te bestellen. Voor wie gruwelijke honger heeft.
#2 THE BUTCHER
Het burgerfenomeen dat geen introductie nodig heeft. Sinds 2012 schudt THE BUTCHER Amsterdam op met zijn bloody delicious burgers. En Berlijn. En Ibiza. En voortaan The Food Department.
#3 BEPITA
BEPITA voegt met de verste ingrediënten de smaken van verschillende Mediterrane steden in een pita. Het luchtige brood, dat haast doet denken aan een Napolitaans pizzadeeg, vouwt zich onder andere om kruidige lamskebab, gegrilde paddenstoelen, pittige vis of een perfect sappige rib-eye steak met tahini en een kick van zhug.
#4 VAN 'T SPIT:
Amsterdams meest befaamde kippetje komt met een vierde zaak naar het centrum van de hoofdstad. Ook hier houdt Van 't Spit het bij hun ei van Columbus: duurzame kip, kip en kip. Met een enkele side dish en huisgemaakte sauzen.
#5 SUSHITO
De oprichters zijn Amsterdammers; hun keuken is Japans, Hawaïaans en Mexicaans. Een wereld aan invloeden wordt op de tweede verdieping van het Magna Plaza een menu vol van Amsterdams meest geliefde pokébowls en sushiburritos.
#6 CHINA SUPREME
Vers gemaakte noodles met alle smaken van de verschillende Chinese provinciën. Slurpen is toegestaan bij China Supreme. Naast de Noodle Bowls zet ondernemer Mike Ng ook de Jian Bing uit Bejing op het menu; een gevulde pannenkoek die op straat verorberd wordt.
#7 LIMALIMA
Stand LIMALIMA waagt zich aan de Nikkei cuisine waarin de complexe eenvoud van de Japanse keuken samenkomt met de explosieve smaken uit Peru. Een trend in fine dining is toegankelijker dan ooit bij LIMALIMA.
#8 LIOS
Wie bij Grieks eten enkel de nasmaak van een nachtelijke giros en souvlaki proeft, ontdekt een heel nieuwe Griekse keuken bij LIOS. En die is heerlijk eenvoudig met traditioneel bereid vlees en vooral heel veel groentegerechten. Het is Grieks streetfood met weinig poespas en extra veel smaak.
DAAR WIL IK HEEN!
Dat kan zeker, medio april 2019 opent The Food Department haar deuren in Magna Plaza Amsterdam. Binnenkort worden er meer standhouders aangekondigd, stay tuned!
Bron: Chefs Quarter, 28-02-2019 | www.chefsquarter.nl/amsterdams-nieuwste-foodhal-the-food-department-onthult-eerste-acht-standhouders
(English version)
CONCEPTS
The Food Department composes its menu from a variety of concepts: renowned names, Amsterdam glory and innovative kitchens that deserve their first culinary stripes. For example, fresh concepts such as LIMALIMA, LIOS and China Supreme are moving into the former post office. One of the real-Amsterdammers finds The Food Department in Van 't Spit – the chicken restaurant where other capital cities literally lick their fingers. Edwin de Koeijer, co-founder Van 't Spit: "Although the roots of our founders lie throughout the Netherlands, Amsterdam has become our city after all these years. With this stand we bring Van 't Spit in the middle of the capital. "
Hospitality empire The Entourage Group, known from MOMO and IZAKAYA, among others, will open no fewer than three stands in The Food Department. "We have always admired the Magna Plaza from the next-door W Hotel. With THE BUTCHER, Toni Loco and Bepita, we hope to bring new energy to a beautiful and historic location." As the eighth concept, local favorite Sushito also finds its way to the Magna Plaza.
# 1 TONI LOCO
"Size does matter, no one wants a small pizza" – Toni serves traditional pizzas with a modern twist and a range of new flavors with its unique crispy sesame crust. Of course, the classics at Toni should also be included: Bianca, Rosa and Olivo. The handmade bases can be ordered up to 50+ centimeters in size. For those who are extremely hungry.
# 2 THE BUTCHER
The citizen phenomenon that does not need an introduction. Since 2012, THE BUTCHER has been shaking up Amsterdam with its bloody delicious burgers. And Berlin. And Ibiza. And from now it's in The Food Department.
# 3 BEPITA
BEPITA uses the freshest ingredients to combine the flavors of various Mediterranean cities in a pita. The airy bread, almost reminiscent of a Neapolitan pizza dough, folds over spicy lamb kebab, grilled mushrooms, spicy fish or a perfectly juicy rib-eye steak with tahini and a kick of zhug.
# 4 VAN 'T SPIT:
Amsterdam's most famous chicken comes to the center of the capital with a fourth business. Here, too, Van 't Spit sticks to their egg of Columbus: sustainable chicken, chicken and chicken. With side dishes and homemade sauces.
# 5 SUSHITO
The founders are Amsterdammers; but their cuisine is Japanese, Hawaiian and Mexican. On the second floor of the Magna Plaza, a world of influences becomes a menu full of Amsterdam's most beloved pokébowls and sushi burritos.
# 6 CHINA SUPREME
Freshly made noodles with all flavors of the different Chinese provinces. Slurping is allowed at China Supreme. In addition to the Noodle Bowls, entrepreneur Mike Ng also puts the Jian Bing from Beijing on the menu; a filled pancake that is eaten on the street.
# 7 LIMALIMA
Stand LIMALIMA ventures into Nikkei cuisine in which the complex simplicity of Japanese cuisine meets the explosive flavors from Peru. A trend in fine dining is more accessible than ever at LIMALIMA.
# 8 LIOS
If you only taste the aftertaste of a nocturnal giros and souvlaki with Greek food, you will discover a completely new Greek kitchen at LIOS. And it is wonderfully simple with traditionally prepared meat and above all a lot of vegetable dishes. It is Greek street food with little fuss and extra taste.
I WANT TO GO THERE!
That is certainly possible, The Food Department will open its doors in Magna Plaza Amsterdam in mid-April 2019. More exhibitors will be announced soon, stay tuned!
Source: Chefs Quarter, 28-02-2019 | www.chefsquarter.nl/amsterdams-nieuwste-foodhal-the-food-department-onthult-eerste-acht-standhouders
OPENING HOURS
Mon-Thu   12:00-20:00
Fri-Sun      12:00-21:00
Stands have different opening times. For more info check here.